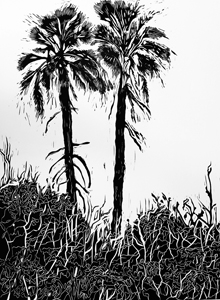 "Out of Africa"
May 1 to June 30, 2012
After a safari trip to Botswana and Zimbabwe in August 2010, I was inspired to preserve my memories of special happenings on that trip. Each of the 14 linocuts recalls a unique experience of the trip, such as visits to learn about the San peoplesí 30,000 year old civilization, or 19 lions sleeping just outside of our cottage behind a fence and roaring all night, or finally seeing zebras for the first time gathered under a tree staring back at the viewers. Each image is 18x24 (or 24x18).
Click on a thumbnail below to see a larger version
of each linocut print in the "Out of Africa" exhibit.